When you think creepy comics, you probably think
Tales from the Crypt
, the classic flagship title of the now-defunct EC Comics. EC published many other horror and suspence comics, including
Shock SuspenStories
and
Crypt's
two sister titles,
The Haunt of Fear
and
The Vault of Horror
. These comics were wildly popular in the late '40s and early '50s, and known for gruesome depictions of violence and gore; they were the main target of the anti-comics movement spearheaded by
Dr. Frederic Wertham
.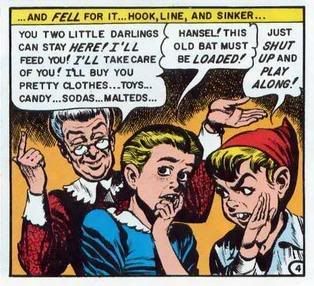 "Hansel and Gretel", from
Haunt of Fear
#23, is a classic example of the "twisted fairy tale" convention, which would become popular in later years with a slew of dark-'n'-edgy (and often tasteless) remakes like
Snow White: A Tale of Terror
and
Grimm Fairy Tales
. This story stands out from the others, though, with its subversive, sarcastic sense of humor, going to show that it doesn't take itself too seriously. Hosted by the Old Witch (the better-known Crypt Keeper's distaff counterpart), it retells the classic tale by the Brothers Grimm from a decidedly different perspective.
You can read it here.